Wah!Cade
Jump to navigation
Jump to search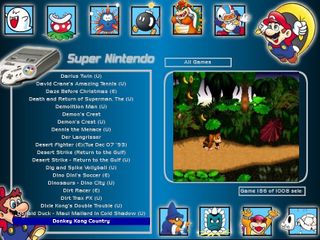 Wah!Cade is a GNU/Linux friendly clone of Minwah's excellent MameWAH.
It's is a front end for the M.A.M.E. arcade game emulator, and has been designed with arcade cabinet controls & projects in mind.
The source code is released under the GNU GPL license.
Features
It's MameWAH for GNU/Linux! (Also reported as working on Windows, FreeBSD and Mac OS X).
It uses MameWah's config files and layouts (See Mamewah Setup).
It has a keyboard controlled GUI - Perfect for those arcade controls
It runs x.mame games and other emulators too.
A History Viewer (Mame Only)
A Control Panel Viewer (Mame Only)
A Setup Editor
A Layout (Skin) Editor
Note: Wah!Cade is written in Python, which is machine portable. Wah!Cade does run, as of version 0.9, but not with full functionality, under Windows. The author may or may not support Windows in future versions.
Links