Virtual Music Jukebox
Jump to navigation
Jump to search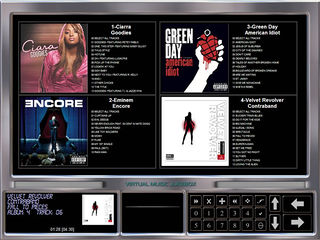 OS: Windows ME, NT, 2000, XP (preferred)
Cost: Commercial software ($35)
Skinnable: Advanced - Change the complete look but not change element sizes or locations
Re-mappable keys: Yes
Monitor orientation(s): Horizontal
Screen resolution(s): 800x600 & 1024x768
Main Control(s): Keypad, Touchscreen, Mouse
Supported media format(s): mp3, wma, wmv
Format Orientation(s): Album-oriented
Additional Requirements: Windows Media Player
Homepage: http://www.virtualmusicjukebox.com/
Additional Details:
Virtual Music Jukebox gives the look and feel of a modern bar-style jukebox. General requirements include a 400 MHz or Pentium equalivant processor, 256 MB RAM, 8mb/32/mb video card, & sound card. Website states that future updates are always free for registered users.
VMJ supports jpg and gif to allow for display of album cover art, txt for text based lyrics files that can be displayed, and can play video files in wmv format. Dual monitors are supported but require a dual monitor capable video card. Lyrics can then be displayed on one monitor while the interface is displayed on another. An equalizer is available, and support for coin/dollar accepters is included as well.
Created by Digital Innovations LLC