The PC Jukebox
Jump to navigation
Jump to search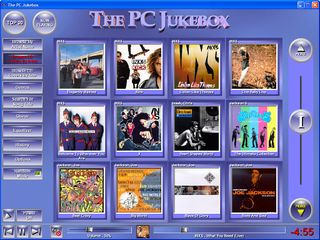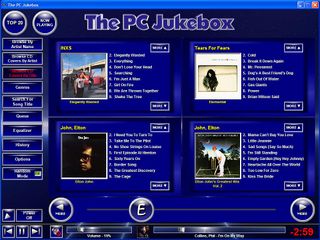 OS: Windows 2000 or XP
Cost: commercial (Light: $20, Standard: $40, Pro: $200)
Skinnable: Standard
Re-mappable keys: Only few shortcuts can been remapped
Monitor orientation(s): Horizontal support only.
Screen resolution(s): 1024x768
Controller(s): Touchscreen and mouse
Supported media format(s): mp3, wma, wav and video*
Format Orientation(s): Album-oriented
Additional Requirements: Some Runtime Components may been required, it downloadabe from thier page.
Homepage: www.thepcjukebox.com
Additional Details:
The PC Jukebox operates much like a traditional jukebox - users select songs and they get added to a queue. The first song selected is the first one played. The rest of the songs are played in the order they are selected.
Unlike a traditional jukebox, however, The PC Jukebox gives the users added control. At any time, the list of songs in the queue is available so anybody can see how many songs they will have to wait to hear their selection. There are controls to skip to the next song, restart the current song, and pause the current song. The time elapsed of the currently playing song is also constantly displayed. Volume and mute controls are also provided, not to mention a full graphic equalizer!
While much of the operation of The PC Jukebox is pretty straightforward, there are many extra features that can add to your enjoyment of the program.
* This software does support videos, but it seen it very primary, because you need to tag all videos one by one (very slow process, and many may give up).