PartyTime Jukebox
Jump to navigation
Jump to search
This page is simply a placeholder and the information copied into here is inaccurate thus far. I didn't put a cleanup tag on here because it's just for demonstration purposes thus far.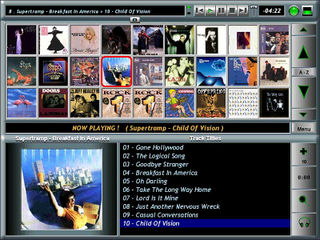 OS: Windows
Cost: Freeware with nag screen
Skinnable: Basic
Monitor orientation(s): Horizontal and dualscreen support
Screen resolution(s): Best for 800x600 and 1024x768
Controller(s): Desinged for Touchscreen and mouse
Supported media format(s): Any winamp formats (both media and videos).
Format Orientation(s): Album-oriented
Additional Requirements: Winamp 2.X or 5.X required
Homepage: PartyTime's Jukebox
Additional Details:
PartyTime Jukebox is a visual jukebox type application for PCs, designed to be used in a home, commercial or business setting. Its interface was meticulously designed to be of utmost ease of operation for users of all ages and can even be set-up on a touch screen monitor. The perfect assistant for any DJs, PartyTime Jukebox will also manage very well on its own as a stand alone virtual jukebox unit in any business environment.