MultiFE
Jump to navigation
Jump to search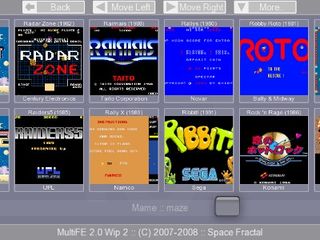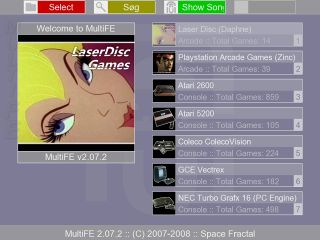 MultiFE, created by Space Fractal
What is MultiFE?
MultiFE is a simple, but effective fullscreen virtual Jukebox player for both your albums and singles collection(s) for your game room. MultiFE can also ACT like a frontend to launch games for emulators and PC games (using bat and shortcuts) as well. It can been used with a touch screen or with arcade controls.

Why is this frontend called MultiFE?
Unlike Arcade Music Box and many other software applications, MultiFE uses a library system which can carry its own Orientation format for music and even for games. This means MultiFE can use multiple type of collections for both games and music.
Due MultiFE support MultiPle Libraries for games and orientations for music, this application is called MULTIply FrontEnd.

I have heard a similar title before MultiFE?
MultiFe is renamed from MultiJuke, which was just focused on music, but now want to turn into a game lancher and music player. Thanks goes to Cakemeister from BOYAC for the nice name.
Featuers:
Some Key General Features:
All form for controllers supported through 3 GUI modules: Arcade GUI, Jukebox GUI and Touchscreen GUI.
Colors and background in the theme used can been changed.
Designed for 640x480 and up and in 4x3, 5x4, 16x9 and 16x10 formats.
Full feature Search feature (search in all libraries at once).
Highly integrated Jukebox and Game frontend.
Jukebox GUI and Arcade GUI can been combined (even in rotated mode).
Locale Language support (both right and left handed langauges).
Multiply Libraries support for Albums, Singles and your games.
Relative paths support (use systems ot music folder which exists in MultiFE).

Some Key Frontend Features:
Cocktail and rotation support.
Escape hook for most officiel emulators.
Launch commandline applications before and after game launch and on various other points.
Launch pretty much any emulators (System), Mame and PC Games (Explorer Library).
No ini edit (apart from creating new profiles for new Systems and for LCD devices).
Profiles based (20 system profiles is included and more to come) = Easy Setup.
Screenshots does not need match 100% for filenames for Systems.
UnZip for System Library for various emulators, that dosen't support zip files.

Some Key Jukebox Features:
Compatible with multiJuke libraries and config files (see upgrade section).
Filemask and id3v2.x support for the jukebox.
Hide Jukebox and/or frontend part.
Integrated CDG Player with zip support (but no video support).
Juke Plugin System support.
Play all important music extensions.
Serial LED/LCD & SmartiLCD support for Jukebox GUI (can operate in Monitorless mode).
Various bugfixes around Jukebox part since final version of MultiJuke.