Jukebox Simulator
Jump to navigation
Jump to search
This page is simply a placeholder and the information copied into here is inaccurate thus far. I didn't put a cleanup tag on here because it's just for demonstration purposes thus far.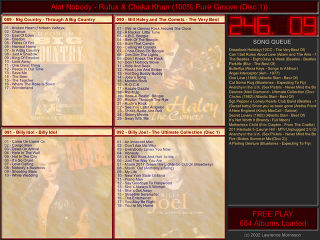 OS: Windows (XP preferred)
Cost: Shareware ($20)
Skinnable: No
Re-mappable keys: Yes
Monitor orientation(s): Horizontal
Screen resolution(s): 1024 x 768
Controller(s): keyboard, mouse, arcade controls
Supported media format(s): mp3
Format Orientation(s): Album-oriented
Additional Requirements: Soundcard.
Homepage: www.jbsim.co.uk
Additional Details:
For best results, Jukebox Simulator should be run on at least a 350mhz PII or equivalent, 64MB RAM, and a 16-bit XGA display. (1024 x 768). Also, wihtout a soundcard, Jukebox Simulator will not run.
Jukebox Simulator supports accepting coins and random play. Prior to payment, software is limited to 30 minute time limit, 12 Album limit, 5 Track limit, and vend mode can be enabled.