Jukebox Jockey Media Player
Jump to navigation
Jump to search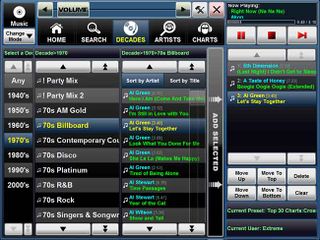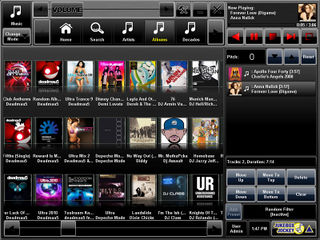 OS: Windows
Cost: Pro, $199 - Home, $39.95
Skinnable: Easy - Adjust colors and fonts, Advanced - Adjust graphics
Re-mappable keys: Advanced actions functions controllable via infrared remote.
Monitor orientation(s): Horizontal, Vertical, Dual (for video and karaoke)
Screen resolution(s): 800x480+
Controller(s): touchscreen, infared remote, keyboard, keypad, mouse
Supported media format(s): Supports Music, Karaoke, and Video. Utilizes the BASS library for audio and DirectShow for video.
Format Orientation(s): Customizable views can sort music by anything. Standard views include: Artist, Title, Genre, Decade, Album, Playlists, etc.
Additional Requirements:
Homepage: Jukebox Jockey Media Player Software
Additional Details:
Jukebox Software, DJ Software, and Karaoke Hosting Software for PCs. Jukebox Jockey allows you to view all of your music, music videos, and karaoke media in meaningful ways. Our Jukebox Software can be customized to fit your unique needs. Our user management features allow you to securely lock down your PC from your friends or guests. Advanced request management functions allow you or the guests at the party to manage the event with ease!
Jukebox Jockey's Unique Features...
Random Play Filters
Pitch Control (Pro Only)
Advanced System Mixer (Pro Only), control all of your soundcard's inputs via the interface.
Menu builder makes it easy to customize the buttons and profiles along the top of the software
Advanced Cross-fading
Limiter
Dynamic Amplification
Supports Music in all major formats
Supports Video files in all major formats
Supports Karaoke files in MP3+G and .ZIP formats
Uses album art in tags, folder.jpg format, or other custom formats
The queue can manage music, video, and karaoke all in the same queue
Multiple monitors can be configured with different displays on each
Organize, categorize, and display your media in various ways
Custom view definitions can display your media in any way you want
Supports M3U Playlists
Customizable skins, fonts, and colors.
Request Tagging feature allows you to keep track of who requested what. This is great for karaoke.
Secure down your PC by switching to Guest or "Party Play" mode
User management functions allow you to create different passwords and configurations for the guest, host, administrator, and more* (Limitations in Home Edition)
Import and export playlist databases for seamless integration with online playlist builders (Pro Only)