Jukebox Arcade
Jump to navigation
Jump to search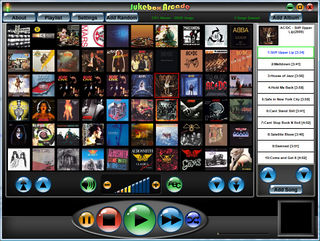 OS: Windows
Cost: Freeware
Skinnable: Full - Skin file in .XML format.
Re-mappable keys: Yes
Monitor orientation(s): Horizontal
Screen resolution(s): ANY - 1024x768,800x600 and 1280x768 with default skins
Main Control(s): Mouse, Trackball, Buttons and Touchscreen
Supported media format(s): WMP Audio and Video. Uses Windows Media Player and all supported audio/video formats
Format Orientation(s): Album oriented, supports singles
Additional Requirements:Windows Media Player 9 or Higher
Homepage: www.extrastrength.com
Additional Details:

A new version was release on 2/16/09 . The new version has improved skin features, support for Video files, enhanced visualization support, and many new features.
This former pay program is now freeware. It's interface is based around album art, and utilizes Windows Media Player as the back end. The interface is skinnable through the editing of an .XML file. It allows mapping of most of the functions to keybaord/button input, or can be controlled via the mouse. The skin definition can be modified to remove unwanted elements, and change the look shape or size of others. With the default skin's large buttons, the program can be used with a mouse compatible touch screen driver.