Juke Blaster Pro
Jump to navigation
Jump to search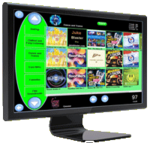 OS: Windows
Cost: Commercial
Skinnable: Basic - User can change text size and color of interface
Re-mappable keys: Mame style keyboard support
Monitor orientation(s): Horizontal
Screen resolution(s): Autosize
Main Control(s): Coin Acceptor, Reject Button, Coin Door Switch
Supported media format(s): mp3, wma
Format Orientation(s): Both
Additional Requirements:
Homepage: www.jukeblaster.com
Additional Details:

Juke Blaster Pro is a full featured digital PC jukebox software that enables your computer to work just like the ones you find in your local club or bar. Simply tell Juke Blaster Pro where your music files are located and they are instantly displayed on screen along with your album picture and track title. Juke Blaster Pro can be used with a touch screen monitor in FULL screen mode, or in a window on your desktop for personal use. A USB interface is also available so that hobbyists can connect an electronic coin acceptor or a simple mechanical coin switch. Get that real jukebox look and feel with Juke Blaster Pro!