GameEx
Jump to navigation
Jump to search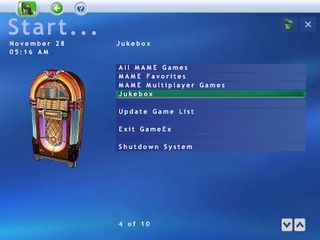 GameEx is a graphical DirectX based front-end for MAME, Zinc, Daphne, PC Games, and all command line based game emulators, along with being a complete Home Theatre PC solution.
The original goal was for it to be used on Windows Media Center as a plug in for playing games and for Arcade Cabinets although will run on Windows 98SE, ME, 2000, XP, Vista and Windows 7.
You can use it for free (there are no time limits) with a nag screen.
The registered version costs $25, which has no nag screen and various additional features.
Download GameEx from http://www.gameex.net
GameEx is under very active development and has a support forum

Until further notice the good folks over at GameEx in partnership with BYOAC are offering 15% off the price of the registered version of the software (normally $25) for all BYOAC forum members with more than 300 posts!
To qualify you'll need a post count of over 300 and to PM the author of GameEx (tspeirs) from the forums here ensuring to include a valid email address.

This author is also active here as the username tspeirs.