GXJukeBox
Jump to navigation
Jump to search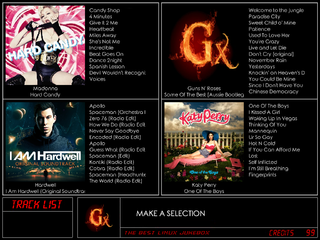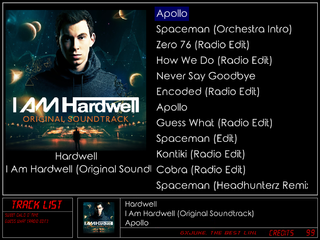 OS: Linux (Currently Ubuntu 15.04 as development OS)
Cost: Shareware
Re-mappable keys: No
Monitor orientation: Horizontal
Screen resolution: 1024x768
Main Control: Keyboard
Supported media formats: mp3 wma m4a ogg
Format Orientation: Album
Homepage: www.gxware.com
Additional Details:
GXJuke is a clone of the unsupported SKJukebox. It was developed to run on Linux.

Is GXJuke going to run on other operating systems?
Based on the feedback of the linux version, GXJuke will be ported to support any system.
Why does GXJuke not have mouse/touchscreen support?
GXJuke is currently a beta release for review. It will support mouse/touchscreen in the near future.
Why does GXJuke not support feature (X)?
You are welcome to make any feature requests on the forum or email me, all requests will be considered.
Where do I put my media?
All your albums should be in your home directory`s "Music" folder.
CONTROLS:
left + right arrow keys to navigate albums.
1-4 to select album.
up + down arrow keys to navigate song list.
enter to play/add song to queue.
s to skip song