Flight Yoke
Jump to navigation
Jump to search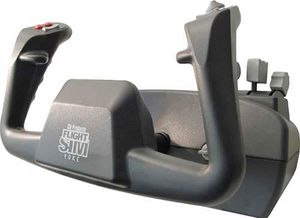 A Flight Yoke is a special type of analog joystick. It is used on many flight simulators and, most notibly, on the Star Wars Vector Graphcs arcade game.
Integrating a Flight Yoke into a Mame based cabinet can be accomplished either by hacking an original yoke, or by building a replica.
Instructions for hacking an original flight yoke can be found here.
Another alternative is the Twisty Grip. This yoke is made from PVC and plugs directly into the Gameport or can be used in conjunction with Gamepad encoders such as those offered by Groovy Game Gear and Ultimarc The Twisty Grip can be painted using Rustoleum Plastic Paint (found at most hardware stores)
See Also