Aussie Juke
Jump to navigation
Jump to search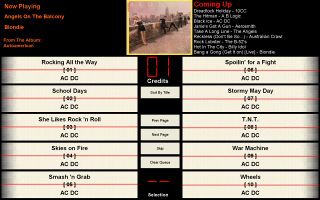 OS: Windows 98+
Cost: Freeware
Skinnable: Basic
Re-mappable keys: Yes
Monitor orientation(s): Horizontal
Screen resolution(s): Auto scaling
Main Control(s): Joystick, Touchscreen
Supported media format(s): mp3 wma mpg
Format Orientation(s): Singles
Additional Requirements:
Homepage: Aussie Juke
Additional Details:
This jukebox software is a Windows based program designed for use in arcade cabinets. It is free to use in non-commercial environments. Feature suggestions and bug reports are welcomed.

Features:
Plays mp3, wma audio files and mpg video files
Uses id3/wma tags or directory structure for song information
Stand-alone database file for fast loading after first time
Multiple album & singles directories can be used
Sort by artist or title options
Play queue can be resumed at startup
Key mapping customisable to suit existing jukebox buttons
All settings via the GIU (stored in an ini file)
Alternate ini files can be loaded as a command line parameter
No installation required - ready to run after setting a few options
Supports the JPS (Juke Plugin System)
Can be skinned (song labels & text colours only)