ArcadeFX
Jump to navigation
Jump to search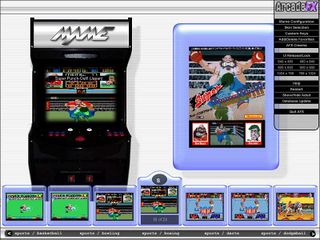 Here's how the author of ArcadeFX describes his work:
"ArcadeFX is my interpretation of almost everything I want in a MAME front-end that runs under Windows with a PC monitor:
I wanted something that looked as good, if not better, than any game.
I did not want it to look like a standard Windows application develped with C++ or VB.
I wanted it to be very eye pleasing. It must also lock the user out of the window environment as much as possible.
I wanted the UI to be skinable so I can change the interface when I got bored with it.
I wanted it to be almost entirely controlled with a joystick or trackball and only the ESC and ENTER buttons.
For the most part, these are the requirements when I started this project in July of 2001. Was I asking too much? I did not think so. So with a good friend of mine we began the path of creating our perfect MAME front-end that runs under Windows."
ArcadeFX features include:
Key Mapping for all non admin features.
Marquee and flyer change as you scroll through games.
If no marquee is available then MAME flyer is displayed.
If no flyer is available then ArcadeFX flyer is displayed.
Display shows n of n game below currently selected game.
Letter/Number of current position is displayed above currently selected game.
Current configurable options include Rotate Left/Right, Flip x/y, Maximize, Scan Lines,Triple Buffer, Controller: HotRod SE, Mouse, Joystick, and Sound on/off.
You can make your own skins for the UI. Template is available on the download site.
MAME categories let you sort your ROMs for easy access.
Up to 4 custom categories to keep your favorites easily handy.
ROM Maintenance feature lets you move/copy/delete ROMs from/to any category.
Clicking the ArcadeFX logo in the upper right corner show hidden admin options. These require keyboard access and include: MAME Configuration, ROM Maintenance, Batch ROM Organizer, Skin Selection, Custom Keys, AFX Cinema, Help, Restart, Quit AFX.
Support to play Dave Dries QuickTime arcade movies right in the UI. Very cool to watch these. Just like going to the movies.
Full screen snap navigation. Twenty at a time for easily find your ROMs by clicking on the snap in the cabinet.
Note: NOT UNDER ACTIVE DEVELOPMENT