AlbumPlayer
Jump to navigation
Jump to search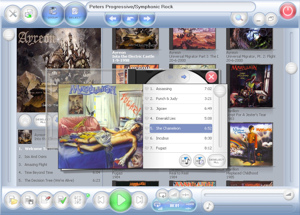 OS: Windows
Cost: Shareware (29,50 euro)
Skinnable: Easy - Adjust colors and fonts, Advanced - Adjust graphics
Re-mappable keys: Some
Monitor orientation(s): Horizontal, Vertical
Screen resolution(s): minimum 800x480
Controller(s): touchscreen, mouse
Supported media format(s): wma, mp3, ogg, flac, wav, wavpack, musepack, optimfrog, ape
Format Orientation(s): Album-oriented
Additional Requirements:
Homepage: www.albumplayer.com www.touchscreenplayer.com
Additional Details:
The AlbumPlayer comes with two main interfaces, a mouse mode and a touch mode. The activations when clicking, albums, album info, and tracks are configurable. So you can decide yourself if you want to add an album to the playlist on click, or first open the album booklet window. The native Replay Gain support is a great feature, having playlists played at automatic adjusted volume levels, so you don't have to adjust it manually each time. Supports Last.fm submission, Evillyrics, and MSN messenger "now playing".