Ultrastyle
Jump to navigation
Jump to search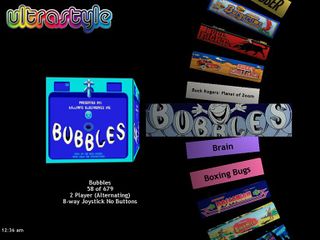 List of Features:
customizable background (in .jpg format)
upright or cocktail mode - clockwise and counter-clockwise (Horizontal)
custom font under screenshot cube and on marquees for games without .pngs
customize font color for game name under cube
custom resolutions 640x480,800x600,1024x768
GUI based setup
3 wheel sizes, start off with any wheel size you like
Mouse/Trackball wheel control
customizable sounds
see all artwork associated with a game
optional filter system using files from the Catlist, up to 136 sub-categories
3D game art viewer has 4 shapes to choose from
all controls are bindable
startup in one of hundreds of sub-categories, or your favorites, last game played, or the filter wheel itself!
2 sizes for the cube normal and bigger then normal
MAME command line option
additional sound packs and skins available
Hide the clones
Non-working ROMs removed, list generated to help you find out what games don't work
Background MP3 music (optional) while you browse your games
supported file formats: raw/mod/s3m/xm/it/mid/rmi/wav/mp2/mp3/ogg/wma/asf
Add/Remove favorites from within ultrastyle
see the attract video on the screenshot cube (optional, video must be in avi format)
merged sets supported
run an .EXE of your choice (I.E. Daphne games, HOTD, Virtua Cop/Squad)
optional clock
presets for commercial control panels
new marquee style - Plank
native NPlayers.ini support
optional controller info for each game
configurable mouse buttons
Setup Wizard
remove favorites from within ultrastyle
Ultrastyle's home page is at http://www.mameworld.net/ultrastyle/
Ultrastyle was made an open source project in March of 2006.