Project Arcade
Jump to navigation
Jump to search

Project Arcade - The Book!
Project Arcade - the book!
While not a tool per se, this book is considered an arcade cabinet builder's "bible". Many of the things you'll read about within this Wiki have been culled from the book, as well as graphical representations of some of the things found here. A small investment, considering the wealth of knowledge found there, and an item you'll find yourself often turning to.
About the book
Project Arcade is the book written by John St.Clair, owner of the Build Your Own Arcade Controls web site (you're on it now!).
Table of contents
Chapter 02 - Building Your Arcade Cabinet

Anatomy of a Cabinet
Determining the Things You Need
Getting Ready to Build Project Arcade
Beginning Construction
Chapter 03 - Pushing Your Buttons and the Joy of Joysticks

Buttons, Buttons, Everywhere!
Joysticks
Chapter 04 - Taking Your Game Out For a Spin -- Spinners and Trackballs

What Do Spinners and Trackballs Do?
Spinner Choices
Trackball Choices
Chapter 05 - Arcade Controls for Power Gamers

Steering Wheels and Pedals
Flight Yokes
Light Guns
Dance Pads
Chapter 06 - Building the Control Panel

Laying Out Your Design
Installing the Controls
Mounting the Control Panel
Multiple Control Panels
Project Arcade Control Panel Design
Chapter 07 - How it Works -- Turning a Computer into the Brains of an Arcade Machine

Digital and Analog
Arcade Cabinet Wiring 101
How It All Works
Chapter 08 - Using the Keyboard Connector for Arcade Controls

Hacking a Real Keyboard
Multiple Keyboard Connections
Customized Keyboard Encoders
Chapter 09 - Arcade Controls Using the Mouse Connector

How Mice Work
Hacking a Mouse
Purchasing Optical Encoders
Multiple Mice
Chapter 10 - Miscellaneous Bits of Arcade Trickery

Gaming with the Gameport
Using the USB Port
Other Miscellaneous Tricks
Chapter 11 - Audio -- Silence Isn't Golden

Speaking of Speakers
Arcade Jukeboxes
Chapter 12 - A Picture is Worth a Thousand . . . Tokens?

Electrical Warning
A Basic Understanding of Monitors
Monitor Types
Mounting Monitors
Chapter 13 - Installing The Computer

Configuring Your Computer for Total Arcade Immersion
Installing the Computer into the Cabinet
Chapter 14 - Choosing and Loading Software

All About Emulators
Commercial Arcade Software
Shareware and Other Great Games
Chapter 15 - Buttoning Up the Odds and Ends

Decorating the Cabinet
Lighting Effects
Protecting the Cabinet
Other Odds 'n' Ends
Chapter 16 - Stuck? Frustrated? Out of Quarters?

Troubleshooting Tips
Getting Help
Giving Back
Chapter 17 - Buying Your Way to Gaming Nirvana

Kits
Arcade Controllers and Cabinets
Game Console Controller Adapters
Chapter 18 - Online Places to Go

Inspirational Projects to See
Great Places to Get More Information
The Project Arcade Finale
Appendix A - Where to Find Arcade Parts for your Project
Appendix B - The Great Debate -- Preserving Versus MAME'ing the Past
Buy the book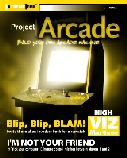 You can buy the book from: