Optical Encoders
Jump to navigation
Jump to search
Mouse encoders (or Optical encoders) allow the use of a trackball or spinner and offer the functionality of a mouse hack in an easy-to-use form. They offer several benefits including ease in connecting controls and time savings.
Opti-PAC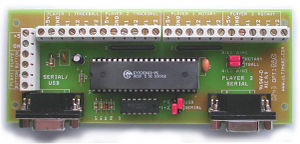 The Opti-PAC allows for easily connecting optical-type arcade control devices including trackballs and spinners to a PC.
Relevant Link: Ultimarc's Opti-PAC Page
Opti-Wiz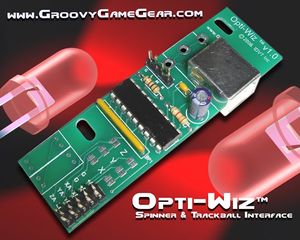 Description needed

Relevant Link:
GroovyGameGear's Opti-Wiz Page
ME4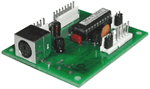 Description needed

Relevant Link: Hagstrom's ME4 Page
Mouse Hacks
It's possible to perform a simple hack on a ball-mouse that allows it to connect to a standard trackball. This is done by removing two of the mouse's optical receivers and wiring the trackballs encoders to them.
Relevant Link: How to turn a Mouse into an Arcade Trackball Interface (PDF)
Build Your Own Spinner
Error creating thumbnail: Unable to save thumbnail to destination
For those of us who would prefer to build their own spinner or cannot afford a retail unit, with a few spare parts that most likely are already lying around, can easily build your own.

Relevant Link: DHansen's Arcade Stupidity Spinner
Relevant Link: BYO "Nasty-Spinner" Thread

List of compatible hard drives:
WD Caviar 1200 210 MB Drive
WD Caviar 11200 1.2 GB Drive
Please feel free to add to the list of compatible drives if you have successfully built your own spinner with a drive that is not listed.