Maximus Arcade
Jump to navigation
Jump to search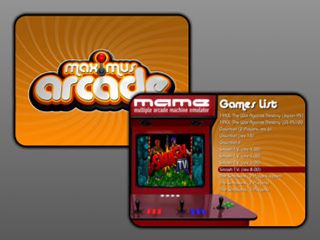 Maximus Arcade (MA) is PC based software that allows for seamless interaction with multiple arcade and console emulators while keeping the Windows environment hidden. Although best suited for use in arcade cabinets, it can be configured for use in a kiosk or simply running on a computer with a keyboard, trackball, or gamepad.
It's easy to setup and it doesn't require any additional framework to function. The download contains both the frontend and the skin editor.
The demo works for 30 days and then a registration code is required.
Maximus Arcade features:
Once configured - simple enough for children to control
NO wrappers needed
NO additional installs required (.NET, JAVA, or VB)
Windows environment is hidden
Universal exit switch to quit all emulators and return to selection mode
Multiple key assignment
Works at 32, 16 & 8-bit resolutions
Able to accept input from popular control panels (SlikStik, Ultimarc, etc..)
Trackball and mice support
Joystick/Gamepad support
Extended Keyboard support
Sensitivity controls for input devices
Ability to launch shortcuts and batch files
WYSIWYG Skin Editor
Supports png, jpg, and swf (flash) with transparency
Resolutions including HDTV, EDTV, and common screensizes
Skin images imported are optimized based on selected resolution
Command lines strings are automatically generated
Change the display order of all emulators
Display screenshots, movies, and marquees within the interface
Screen capture ability during emulator execution
Customizable command line strings
Jump to a game alphabetically or a page at a time
Create a favorites list for emulator
Media caching and name filtering
Uses ClrMAMEPro database files for MAME, Nebula, NeoGeo, Raine, WinKawaks, and ZINC emulators
Uses 'catver.ini' for reference to non-working games in MAME
Can use MAME generated file 'favorites.ini' as a favorites list
Adjust priority level of MA while it is running as a background task
Video support (avi, mpg, wmv)
Background soundfx (wav, mp3)
Built-in MP3 Jukebox
Screensaver attraction mode
MP3 Jukebox attraction mode
The home page for Maximus Arcade is http://www.maximusarcade.com/