Difference between revisions of "MAME32"
Jump to navigation
Jump to search
m

m

Line 7:
Line 7:
 
 
 

[[category:MAME adaptions]]

 

[[category:MAME adaptions]]

 
+
 
+
---
Revision as of 02:33, 30 March 2006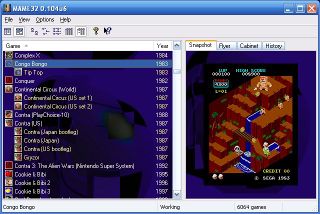 Mame32 is the Win32 GUI version of the M.ultiple A.rcade M.achine E.mulator, a program which seeks to document the internal hardware and code of arcade games. Originally authored in 1997 by Chris Kirmse, Mame32 was the first port of Mame™ to the Windows platform. It is currently maintained by longtime team members: Kirmse, Mike Haaland, and John Hardy IV.
MAME32 has a support forum at http://groups.msn.com/mame32qa/messageboard.msnw
MAME32 can be downloaded at http://mame32qa.classicgaming.gamespy.com/