Chankast
Jump to navigation
Jump to search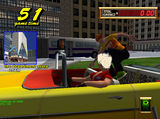 What is Chankast?
Chankast is an emulator for the popular sega dreamcast console. It is the only dreamcast emulator that can play actual games. Chankast is also a very popular emulator for the arcade fan as the dreamcast had many games that are virtually identical to titles released on the, unemulated, Sega Naomi arcade hardware.
How do I set it up?
Chankast is not cabinet friendly at all. It won't run rom images and will only run cds (or virtually mounted cds). It also doesn't support command line options and each game usually needs specific settings, which isn't supported by the emulator. Luckily it is still possible to run chankast in an arcade cab.
If you don't wish to swap out discs all day you'll want to run disc images from a virtual drive. The two most popular virtual drive programs are Alcohol 120% and Daemon Tools. Download your preference and make sure that you define at least one virtual drive. Instructions on how to do so can be found at the respective products homepages.
Of course you'll also need disc images. Instructions on how to rip images from your Dreamcast games can be found at the Chankast forums.
Once you have all of that simply download a chankast wrapper from the wrappers section. Howard's is recommened as it mounts the images for you and allows for game-specifc settings. Follow the setup instructions included with the wrapper and you are good to go.
Notes:
The dreamcast had support for up to 4 players, but chankast only supports two.
The chankast has trouble mapping analog buttons/triggers on gamepads to buttons on the dc controller that were digital.
Chankast has timing issues, which you can compensate by adjusting the clock speed. This can be done with the "+" or "-" keys or with the "-cpu" tag in Howard's wrapper.